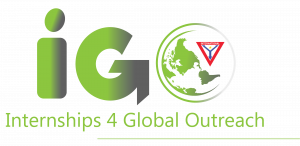 Welcome to iGo, a novel collaborative programme of Y's Men International and the YMCA providing short term internships to young adults aged 18 – 30 from within both organisations.
Key Actions

An iGo internship is built to be a unique learning opportunity for a young person early in his/her professional journey. More than a simple transfer of skills and knowledge an iGo work experience should foster a sense of global community and international solidarity. The programme is built around four key actions:
Engage
Connect
Build
Empower
Engage
BUILD YOUR GLOBAL ENGAGEMENT
Experience different cultures and foreign languages. Broaden your horizons. Gain perspective. Become an informed and active global citizen.
Connect
BUILD YOUR PROFESSIONAL AND SOCIAL NETWORK
Meet new people. Cultivate life-long friendships. Share international fellowship. Complement your personal and professional network.
Build
BUILD YOUR RESUME
Gain work and life skills to enhance your CV. Make yourself a more attractive job candidate, an asset to a potential employer and to the world.
Empower
BUILD YOUR SKILLS AND CONFIDENCE
Develop self assurance. Find your voice. Channel your knowledge. Become a leader. Take action. Enable a better world.
The Process

Internship offers are received and reviewed by the YMI iGo Committee.
If necessary, they are further refined (with financial support and accommodation matters clarified).
Once all details are agreed, the internship is published and the online application form opened. The submission period is 3 months. The internship provider will receive copies of all applications for their posting.
Application processing will happen within 30 days.
Upon the closing of the application period, the iGo Committee will have two weeks to review the candidates.
At the end of that period, the committee will share its recommendation with the internship provider. The final choice, however, will be that of the internship provider.
The successful candidate will be contacted by email with the details of the internship, including any financial support approved. A virtual orientation/introduction meeting will be proposed to occur within 10 days. This gives opportunity for both sides to get to know each other and ask questions.
The candidate has three days post this meeting to decline or officially accept the internship. Likewise, the internship provider may use this opportunity to express any eventual concerns.
Both the internship provider and the intern should be prepared to submit an evaluation of the experience within three months of the completion of the work experience.
Picture and video reports are encouraged and will be used to actively develop and promote the programme.
Sri Lanka
Focus: International grant management at secondary school for the economically disadvantaged
Organisation: YMCA Sri Lanka
Location: Periyakallar, Eastern Province, Sri Lanka
Period: 26 March 2023 – 26 June 2023
Stipend: None
Accommodation: YMCA accommodations provided by the host
Eligibility: Minimum high school diploma or equivalent
Applications now open
Resources to Share
Click image to download