01/05/202101/05/2021
As we rapidly approach our centennial, it is important to look towards the future of our organisation. May is the Emphasis Month for Youth Involvement & Activities, as well as Image Building & Branding.
There is a well-known saying: "Your brand is what other people say about you when you're not in the room."  What do people say about your club today? As emotive creatures we naturally develop feelings and form opinions.  We pay particular attention to our connections and communications with others. So, how you act within your club and how you talk about it is extremely important.
Now, imagine what your club members say about their club life experience. And what the people in the community might say about your service activities. These are all components in defining your club brand.  How many times have you said that you "loved" a product or brand? Branding isn't just about a name or logo. It embodies the personality of the business; it speaks volumes about who you are and where you are going. It gives people a reason to join and a reason to stay.
If we think logically, youth and branding are both key to what happens in the next 100 years of Y's Men International. Today's young people are not just tomorrow's Y's Men leaders but an undeniable driving force in the evolution of the association. We are pleased to announce that May looks like it will be an exciting month for the Y's Youth. We encourage you to keep an eye on the Youth section of our website, now being actively developed.
We must remember that in building the YMI brand we are looking for a formula to inspire new, younger adherents, while also honouring the current, older-generation, club member. Not a simple task obviously but not one that is insurmountable with the right cooperation, evaluation and planning. A first step is to motivate the international spirit of the movement, to reengage interest and pride in belonging to a global community without detracting from local identity and the individualised work done at home. From this renewed spirit can develop universal concepts, messaging and action campaigns, like the recently completed and successful Week4Waste initiative. Cross border cooperation also means larger impact, as well as greater visibility, bringing YMI closer to the international recognition outlined in our vision statement. Our recent joint appeal with the Global Fund to the U.S government is an example of the power of strategic partnerships in boosting brand awareness.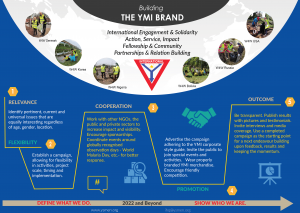 To accompany the May Emphasis Month, IHQ has produced a flyer highlighting five important considerations which have been identified to assist in reaching our shared objective to become a globally recognised service organisation promoting cultural understanding and subsequently brotherhood and world peace: Relevance, Flexibility, Cooperation, Promotion & Outcome
The international leadership looks forward to developing new common actions, like Week4Waste, both within and without the new Heal the World construct, giving priority to addressing new humanitarian needs in the COVID-19 setting.